Dedusting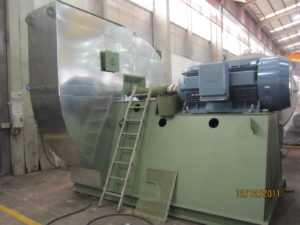 Sector:
Production of cement, grinding and concrete.
Type:
Centrifugal fan 
MBA-L21-1320-M00/8Ca RD0°
With motor 560 kW 4P, elastic coupling N8. Delivered with flexible connectors, thermal insulation of casing, outlet silencer and vibration monitoring system.
Working point:
140.000 m³/h @ 850 mm H2O. for clean air with water steam at 120°C continuous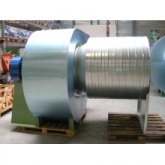 Type:
Ventilator 
MEV-EUM 1121 RD0
, motor 75kW, met geluidsisolatie van behuizing en aanzuig geluidsdemper.
Working point:
45.000 m³/h @ 4.500 Pa stat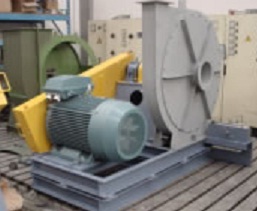 Type:
Centrifugal
 MBA-CB5-38/8/A 90 
fan, motor 7,5kW, Jauflex coupling, equipped with silencer. Application : Dedusting
Working point:
3.300 m³/h @ 450 mmH2O